TKY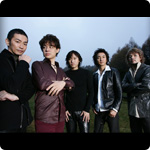 TKY was formed in 2004 after its founding members appeared at the same summer festival, but the original impetus for putting the band together came when TOKU, Kenji Hino, and Yosuke Onuma, three friends who went to New York with nothing particular in mind, decided to join musical forces and try something interesting.
They were then invited to perform at Fuji Rock 2004. After determining their direction as a band, they began to work as a quintet, filling out the group with keyboardist Shinji Akita and drummer Hidenobu "Kalta" Otsuki. After appearing at several summer jazz festivals, a buzz began to spread. The mere fact that five already popular musicians in the Japanese jazz world had gotten together was news in itself. But on top of this, at their shows, each member displays a wild side of himself that doesn't come out in solo performances, leaving audiences breathless.
TOKU (vocals, trumpet, flugelhorn)
Born in 1973 in Niigata. TOKU is the only Japanese vocalist/flugelhorn player.
Under his father's influence, he grew up enjoying all kinds of music. His first instrument was the cornet, which he began in junior high school. When a jazz drummer heard him play "If I Were a Bell" in the style of Miles Davis at a university campus festival performance and invited him to a jam session, TOKU began to get serious about jazz. In his third year of college, he went to the US to study English. His roommate was a jazz pianist, and playing with him in a band made him decide to go for a career in jazz.
TOKU's broad-ranging musical talents have also been utilized outside the jazz world, with participation on albums by J-POP stars such as Ken Hirai, Skoop On Somebody, paris match, and Miki Imai. His personal, sweet and sultry low voice has also become known thanks to the use of his recording of "You Are So Beautiful" on a television commercial for the Hitachi High-Definition Wooo Series Plasma Television. More recently, the use of TOKU's rendering of "Do-Re-Mi" as the theme song for a commercial for the Honda Odyssey became a hot topic, as the stylish jazzy version marked a change of style.
Kenji Hino (bass)
Born in 1967 in Tokyo. At age eight, Kenji went to New York with his father, trumpeter Terumasa Hino. His father's influence was a factor in his taking up the trumpet at nine. Later, he entered the High School of Music and Art and studied jazz fusion. At age 16, he took up the bass after meeting Marcus Miller and began playing jazz, soul and R&B music as a street musician in New York. Kenji's bass playing is influenced by such giants as Jaco Pastorius, Marcus Miller and T.M. Stevens. From the age of 19, he turned professional as not only a bassist but also music director, and participated in recordings by artists active in New York, as well as recordings by Japanese artists in New York. In 1989, Kenji worked at the Apollo Theater as a member of the house band. Later, he participated in an album recording with both his father Terumasa and his uncle, Motohiko Hino, and worked extensively as a bassist at the Blue Note and other clubs in New York.
In 2003, Kenji moved his base of activity to Japan with the release of
Wonderland
(UCCJ-2025), his debut album in Japan. In November 2004, he released the first CD from his own label JINO JAM RECORDS, entitled
Go for da Gold!!
. A highlight of the album is his collaboration with the rapper Zeebra on a tribute song to Japanese Olympic swimmer Kosuke Kitajima.
Yosuke Onuma (guitar)
Born in Akita in 1974. Yosuke's father was an influence in his beginning guitar at age 14. After playing clubs with rock bands, a friend introduced him to the music of the likes George Benson, Donnie Hathaway, and Grant Green. He was deeply impressed and decided to devote himself to studying jazz guitar. In 1995, he took 3rd place as the Japanese representative in the Heritage Jazz Guitar Competition, and in 1999 won the Gibson Jazz Guitar Contest. Yosuke then focused mainly on playing jazz in clubs. His debut album nu jazz was released in November 2001 to wide-ranging praise for his assured technique, fresh sensibility and sophisticated compositions.
Yosuke began to get offers for collaboration from artists in a wide range of genres, including from R&B duo Chemistry as well as Hip-Hop group Rhymester and other J-Pop artists. While realizing these, he has also continued to release his own recordings, including his 2nd album Summer Madness (2002), and Jazz 'n' Pop (2003). His latest, The Three Primary Colors (2004), is gaining attention, as Yosuke is joined on the recording by virtuoso bassist and multi-instrumentalist Richard Bona.
Shinji Akita (piano, keyboards)
Born in 1972 in Nara. Shinji started electric organ as a young child. After graduating from high school, he began his musical work in earnest. After five years working as a performer, arranger and composer in Japan, he went to the US in 1997.
He was keyboardist in the Teruo Nakamura & Rising Sun Band, the Victor Jones Group, and the Igal Michael Group, and worked extensively in Manhattan at the famed Bottom Line and other clubs, on tours, and on recordings. Among the many jazz musicians with whom he worked are Stanley Turrentine, Hubert Laws, Barry Finnerty, and William "Spaceman" Patterson. Shinji also participated in Red Shoes (2000), the Rising Sun Band's first album in 11 years, which featured Bob Mintzer and Roy Ayers as guests.
Since returning to Japan in 2000, Shinji has worked on recordings in a wide range of genres, from jazz to the pop fields of hip-hop, R&B, and rock, with artists including TOKU, Yasuko Agawa, Soul Bossa Trio, SKB, Tyler, and Key of Life. In addition to playing, he has also offered composition, arranging and production services. Shinji also attracted attention with his composition and arrangement of "Time of Gold," which was featured in a television commercial for Canada Dry Ginger Ale and performed as a duet by Junpei Shiina and Ryoko Shinohara. His exceptional musical sense, facile touch and expansive sound have earned him high praise and the confidence of musicians such as Takao Uematsu, Shunzo Ohno, Shinpei Inoue, Marlene, Eri Kamiya, akiko, and Shiho (of Fried Pride). He is also actively developing his art in the piano trio format, based around his original compositions, and is expected to reach further heights as an artist.
Hidenobu "Kalta" Otsuki (drums)
Born in 1970 in Tokyo. He began Electone studies at age three, classical piano at seven, and drums at 10. He studied the drums with Motohiko Hino and Takao Okamura, and composition and arranging with Mitsuya Suzuki. He began to work as a drummer during his school days and participated in sessions in all manner of styles, including jazz, rock and Latin. Around the same time, he got involved in music production as a sound creator and worked in commercial music (for corporate and product PR videos, English language teaching videos, etc.), CD production, and music production for home video games.
Kalta is now very active in producing, composing and arranging, mainly in the J-Pop world including video game music, and also working as a drummer in recording sessions and live performances.
His main recent work includes providing compositions and arrangements for the avex trax artist Hitomi Shimatani, playing drums with organist Yuta Kaneko's AQUAPIT and on recordings and live shows with Sony Music artist Yosuke Onuma, and participation in KARTELL, the trio of the well-known pianist, Nobumasa Tanaka.