Herbie Hancock's Headhunters'05
Herbie Hancock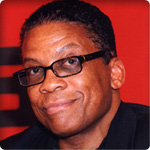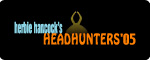 Herbie Hancock, a child prodigy, began his professional career in 1960 when he was discovered by trumpeter Donald Byrd, who asked him to join his group. Byrd also introduced Hancock to Alfred Lion of Blue Note records, and after two years of session work, he signed to the legendary label as a solo artist. His 1963 debut album, Takin' Off, was an immediate success, producing "Watermelon Man", an instant hit at jazz and R&B radio. 1963 also brought Hancock the call that was to change his life and fix his place in jazz history. He was invited to join the Miles Davis Quintet. During his five years with Davis, Hancock and his colleagues thrilled audiences and recorded classic after classic, including albums like ESP, Nefertiti, and Sorcerer.
Since that auspicious beginning, Hancock has been at the forefront of every major electronic and acoustical movement to expand and explore the jazz genre. No stranger to career accolades, Herbie won the 1987 Academy Award for his soundtrack to the film "Round Midnight". He won 10 Grammy Awards, including two for his 1998 classic Gershwin's World and two for the 2002 release Directions in Music, as well as countless other awards for his contributions in the entertainment industry.
In 1996, Herbie founded the Rhythm Of Life Foundation, dedicated to finding ways to use technology to address the real issues of humanity and to narrow the gap between those who are technologically empowered and those who are not.
Last year, in 2002, Herbie released a live album, "Directions In Music", as a tribute to the 75th anniversary of the birth of both Miles Davis and John Coltrane, which garnered him the grand prize for Japan Jazz Disc Awards and two Grammy Awards.
Herbie is a true icon of modern music. His explorations have transcended limitations and genres, and at the same time he has maintained his unmistakable voice. Hancock's success at expanding the possibilities of musical thought has placed him in the annals of this country's visionaries. What's more, he continues to be amazed and expand the publics vision of what music is all about today.
As the music producer of the festival, Herbie has been involved in TOKYO JAZZ since its start in 2002.
This will be his 3rd year in putting the festival together as an icon of all music performers around the world.
Terri Lyne Carrington
World-renowned drummer, composer, producer and clinician, Terri Lyne Carrington, has maintained her status in the industry as a person to watch for over 20 years.
Born in Medford, Massachusetts in 1965, Terri developed a reputation as a child prodigy, jamming with jazz veterans Dizzy Gillespie, Rahsaan Roland Kirk, Oscar Peterson, Joe Williams, and many more. At 7, she was given her first set of drums, which had belonged to her grandfather, Matt Carrington, who had played with Fats Waller and Chu Berry. After studying privately for three years, she played her first major performance at the Wichita Jazz Festival with Clark Terry. Shortly afterward she received a full scholarship at age 11 to Berklee College of Music where she started playing with such people as Kevin Eubanks, Mike Stern, Branford Marsalis, Greg Osby and others. She also studied under master drum instructor Alan Dawson and made a private recording entitled, TLC and Friends, with Kenny Barron, Buster Williams, George Coleman and her dad, Sonny Carrington, before turning 17.
Throughout high school Terri traveled across the country doing clinics at schools and colleges and in 1983, encouraged by her mentor, Jack DeJohnette, moved to New York and started working with Stan Getz, James Moody, Lester Bowie, Pharoah Sanders, Cassandra Wilson, and David Sanborn.
In 1989, Terri moved to Los Angeles where she became the drummer for the "Arsenio Hall Show". She has also toured the globe with Mike Stern, Joe Sample, Al Jarreau, Herbie Hancock and spiritual mentor, Wayne Shorter. Her debut release on Polygram, Real Life Story, was nominated for a Grammy Award and featured Carlos Santana, Patrice Rushen, John Scofield, Grover Washington, Jr., and Gerald Albright.
Recently, she has concentrated her efforts on writing and producing with various artists including Gino Vannelli, Dianne Reeves, Siedah Garrett, Marilyn Scott and Danish pop singers Stig Rossen and Monique. Her production of Dianne Reeves' Grammy-nominated CD, That Day, hovered at the top of the charts for many months. Terri was also the drummer on the late night TV show, "VIBE", hosted by Sinbad.
In 1998, she recorded along with Joni Mitchell and Stevie Wonder, Herbie Hancock's CD, Gershwin's World and is currently touring with both his electric and acoustic bands. Her latest solo CD, Jazz Is A Spirit, (released in March 2002 on the ACT Music label) has enjoyed considerable media attention and critical acclaim in the European and Japanese markets.
Terri Lyne endorses Yamaha Drums, Zildjian Cymbals & Sticks, and Remo Drum Heads.
Roy Hargrove
Roy Hargrove was born in Waco, TX on October 16, 1969. Inspired by the gospel music he heard in church on Sundays and the R&B and funk music that played on the radio, Roy began learning the trumpet in the fourth grade. Somewhat of a prodigy, he was playing at an advanced level of proficiency by the time he reached junior high school. During that time, jazz saxophone legend David "Fathead" Newman performed at his school. After that, all Roy wanted to do was improvise like him.
By age 16, he was studying music at Dallas's prestigious Booker T. Washington School for the Visual and Performing Arts (fellow alumni: Erykah Badu and Norah Jones). Midway through his freshman year, Roy was "discovered" by Wynton Marsalis, who was conducting a jazz clinic at the school. Greatly impressed by youngblood's skills, Marsalis facilitated an audition with Ft. Worth's Caravan of Dreams Performing Arts Center where he ended up supporting Hubbard, Dizzy Gillespie, and Herbie Hancock. During his senior year, Roy was hired by Frank Morgan for a European tour.
In '88, the trumpet phenom moved east to study music at Boston's Berklee. He lasted but a year -- spending more of his time bumrushing NY jam sessions and gigging with Bobby Watson, Ricky Ford, Carl Allen and Superblue than hitting the books. In 1990 he released his major label solo debut, RCA/Novus's Diamond In The Rough. Four albums/years later, RH dropped his Verve debut, the critically acclaimed With the Tenors of Our Time (featuring Joe Henderson, Stanley Turrentine, Johnny Griffin, Redman and Branford Marsalis). Stylistically, every album Hargrove has released on Verve has been different from the one preceding it. Family, Habana, Moment to Moment - have all been Grammy® nominated artistic/critical/commercial triumphs. At this year's Grammys®, Roy, Herbie Hancock and Michael Brecker won the award for Best Instrumental Jazz Album for Directions In Music.
The RH Factor: Hard Groove represents a turning point in Roy Hargrove's definitions of the music: "Personally this represents the passion that I have for the music to want to take it forward. That feeling alone made me realize that this was a spiritual event and that it was something that was history -- something to be remembered That's what the record is -- opening a new door. And this is only the beginning. There will be more episodes to come."
Munyungo Jackson
Munyungo was born in Los Angeles, California, into creative surroundings: his parents, Arthur Jackson Jr. and Genie Jackson, both maintained various involvements in music, dance and writing, and Munyungo is the nephew of the legendary jazz, pop and blues singer and pianist Nellie Lutcher.
As a child, Munyungo was required to take classical piano lessons, and did so until he was nineteen years old. But in his high school years, when one of his buddies started a Latin jazz band, seventeen-year-old Munyungo found himself uncontrollably attracted to the sound of the timbales - and his interest in piano began to fade. He began spending more and more time with the percussionist in that band, soon discovering that he was quite skillful at observing and remembering the techniques. At his first opportunity he purchased his own set of timbales.
During this period, Munyungo's father was program director of a jazz radio station; the benefit to Munyungo, of course, was the constant exposure so much music. He happily surrounded himself with the albums of the many Latin artists of the day such as Mongo Santamaria, Willie Bobo, and Tito Puente, and practiced by playing his timbales along with these albums. Soon, his system of observation-plus-practice proved to be an effective method of self training, and it wasn't long before he, too, formed a Latin jazz band with his classmates.
Munyungo's passion for the timbales was only the beginning. From that point, he made the natural progression to congas, bongos, bells, triangles, bell trees and beyond. Subsequently, he met and worked with traditional drummers from Africa, Latin America, the Caribbean, China and Japan, resulting in a collection of over four hundred percussion instruments and drums from all over the world—all of which he plays proficiently.
That name? On several occasions, he performed with some players from Africa and the Caribbean, who would shout "Munyungo!" (which is a Zulu word meaning "door") to cheer him on as he played—and it wasn't long before the word attached to him as a nickname. Now, for him, the name means "Gateway to Heaven."
Munyungo is deeply committed to understanding—and keeping alive—the tradition surrounding the instruments he plays. "It's hard to study drums without studying the cultures from which they come," he points out. This respectfulness seasons his playing with hearty passion and enjoyment.
"Drummer" is the term Munyungo uses to describe himself and his art: "Traditional percussion instruments were invented for the purpose of communication with nature and spirits as well as with other humans, and someone who uses these instruments to invoke the forces of nature to act is traditionally called a 'drummer'. This is why those of us who perform, know and study traditional music don't call each other 'percussionist'; we call each other 'drummers'."
He is not unmindful, however, of the wealth of new technology available to the contemporary musician, and is equally committed to experimenting with it. Munyungo's "electronic arsenal" of samplers, digital drums, drum machines, percussion, sequencers and sound processors coexist comfortably with his traditional instruments, and he finds them invaluable for composing original music as well as for use within the various studio and soundtrack projects he undertakes.
In addition to his concert, tour and recording work, Munyungo is currently on the staff of the Watt Towers Art Center in Los Angeles, where he helps to present an annuel fall Drum Festival which brings together master drummers from all over the world to present their expertise. At past festivals, Babatunde Olatunji, Philly Joe Jones, and Papa Joe Jones have been among the performers.
Munyungo has also lead his own band, Jungle Book," in presenting traditional performances, which often include dancers. In addition, he conducts local drum clinics in which he teaches the rudiments of ethnic percussion to aspiring professionals of all ages and levels. Watch, too, for his occasional appearinces in television or film productions displaying his musical talents with—or as—a guest artist.
Lionel Loueke
Born in Benin, a small country of west Africa, Lionel first picked up percussion instruments before choosing guitar at the age of 17.
In 1990, he moved to Ivory Coast for a general musical training in the "National Institute of Art" which lasted four years. As he was listening to outstanding jazz musicians such as Wes Montgomery, Joe Pass, George Benson, he was definitely convinced that he needed to improve his playing. The next step would be to enroll in a well known jazz school.
In 1994, he was accepted at the "American School of Modern Music" in Paris (France) where he got his Diploma in 1998.
The dream were coming true. In 1999, he was awarded a scholarship to "Berklee College of Music" in Boston, Massachussetts. He quickly graduated in 2000 majoring in performance.
In 2001, he auditioned for the Thelonious Monk Institute of Jazz, and was selected in a world wide search by a panel of judges including jazz legends Herbie Hancock ,Terence Blanchard and Wayne Shorter. He studied on this full scholarship at the Thelonious Monk Institute of Jazz Performance at the University of Southern California, Los Angeles.
In2002, he stated playing with well known musician : Terence Blanchard. He just record with this last one on the famous Blue Note label.
He studied with : Mick Goodrick, John Damiam, George Garzone, Russell Ferante, Joe Diorio, Carl Allen, Terence Blanchard, Dave Holland, Kenny Barron, Steve Turre,John Scofield,Louis Nash,Herbie Hancock,Wayne Shorter...
Marcus Miller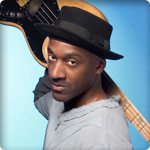 Born June 14, 1959, in Brooklyn, New York
Marcus was brought up in nearby Jamaica, Queens. His father played organ and directed a choir. With his first instrument being the clarinet, he did not pick up the bass until he was 13. But by the time he turned 15, Marcus was already making money playing in a band he put together with friends. He was enjoying mainly R&B and funk until he entered New York's High School of Music and Art (where he was a classmate of Omar Hakim) and discovered jazz. While enrolled at the school, Marcus became acquainted with Lenny White, Lonnie Liston Smith and other outstanding musicians, and performed at concerts and recordings with them.
A fixture on the NY music scene while still a teenager
After graduation from high school, Marcus entered the music world in earnest. He was a staff musician for GRP Records (with Dave Grusin, Tom Brown, Lee Ritenour, etc.), which at the time was a driving force behind the fusion movement, and his freshness and proficiency on the bass soon made him a much sought-after session man who worked on recordings by the likes of Grover Washington Jr., The Brecker Brothers, and Elton John. He was also selected by none other than the great Miles Davis to join the band for his comeback in 1981 after a six-year musical hiatus. At little over 20 years of age, Marcus had risen to the summit of the jazz-fusion world.
At the same time, Marcus vaults into action as a producer and arranger
From 1982, Marcus went beyond playing the bass and began tapping his overall musical abilities. Starting with Lonnie Liston Smith's Dreams of Tomorrow and David Sanborn's Backstreet, he went on to produce and arrange for powerhouse stars such as Luther Vandross, Aretha Franklin, Teddy Pendergrass and Dizzy Gillespie. He then decisively established himself as a superior producer with his work on Miles Davis' Tutu (1986), Music from Siesta (1987), and Amandla (1989).
Release of first solo album Suddenly in 1983; Inception of J-Boys
The multi-instrumentalist's first album as a leader was 1983's Suddenly. The next year, the follow-up Marcus Miller was released (both from Warner Brothers). On both recordings, Marcus played multiple instruments in his approach to black urban expression of the times. Then, as if to engage in self-examination at a time when he had established his standing as a producer, he assembled the Jamaica Boys, a funky band he put together with some of his old friends to have some fun. They put out two CDs, Jamaica Boys in 1987, and J-Boys in 1990.
Offering wholehearted assistance on hundreds of albums
Marcus has produced albums for a truly diverse collection of artists that includes Roberta Flack, Natalie Cole, The Crusaders, Najee, The Temptations, Chaka Khan, Wayne Shorter, France Gall, and Take 6. He has also worked on several film soundtracks, including those for House Party and Boomerang. And of course, the self-acknowledged bass lover has distinguished himself on scores of recordings as a bassist with the likes of Brian Ferry, Scritti Politti, Boz Scaggs, Mariah Carey and Paul Simon.
The early 90s: Marcus takes a giant step as a solo artist
As incredibly active as he was as a producer and bassist, Marcus had been consciously avoiding making a pure solo album after his 1984 solo debut. He revealed his true motive as thus: "After releasing Marcus Miller, I felt that it wasn't quite it. In the ensuing nine years, I tried to find out what kind of person I was and thought long and hard about what I should try to create next. In 1991, when Miles Davis, a person who occupied an important place in my heart, passed away, I thought that now is the time for me to make a record. I felt that the time was ripe and I was fully prepared."
Taking the helm of America's jazz and R&B legacy and guiding it to the now
With this firm conviction, Marcus made what could be considered his first solo album in his new direction, 1993's The Sun Don't Lie. He commented, "I know the great old jazz classics and I also know the way it's being done today. I thought my role would be to creatively connect the two." He followed this up with two polished studio recordings, Tales (1995) and the Grammy Award-winning M2 (2001). Later, he released the mainly live Live and More (1997) and The Ozell Tapes: The Official Bootleg (2002), which vividly convey the live performances that are the bread and butter of his current solo work.
Creating profound, hip and integrated American music
Marcus believes music has great power and is a living thing. "The questions of whether music is alive or not, or has authenticity or not, depend on whether or not it relates to something. It doesn't have to be something political; it can be anything. That's why music is so full of power, as entertainment." He possesses rich musical knowledge, outstanding skills, and a well-founded point of view. Marcus Miller is a proud African American, a loving family man and a sophisticate. He is a person who loves music above all and confidently continues to pursue the music of his mind.
At age 45, exciting days and a new album
Marcus is now a ripe 45 years of age. "I believe I am a very lucky person. A lot of people this age look back at their lives until now and think how great it was at 23, but I feel like I have had a wonderful life all the way from the past up to now. Even now, there are so many things I would like to do, and that I am excited about. And I'm discovering new things even now and gaining new fans!" The product of this fully lived daily life is Marcus' new album Silver Rain.