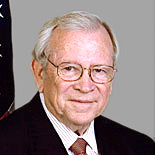 Jazz has often been called 'America's classical music.' This musical gumbo that was first cooked up in New Orleans about 100 years ago, soon traveled to Kansas City and Chicago, and then to New York and Los Angeles. In recent years, fans have savored its taste and relished its sounds from Paris to Tokyo, and Rio de Janeiro to San Francisco.
American jazzmen and women find Japanese jazz aficionados are among the best in the world. Whether their performance is a fresh take on an old standard or a stunning improvisation that explores new dimensions of sound, the performers know that Japanese audiences appreciate their efforts very highly. This country has become a regular stop for many touring groups and a permanent home away from home for some American musicians.
Tokyo Jazz 2002 features distinguished performers from the United States, Japan and other countries. The line-up reflects the international character of jazz, and the ingredients from many cultures that renew and enrich the original gumbo.
I am delighted to support NHK's efforts to bring this American music to Tokyo, and wish the organizers every success. I am sure that the jazz, whether cool or hot, will be a breath of fresh air in the Tokyo summer.


Howard H. Baker, Jr.
Ambassador of the United States of America

It goes without saying that Herbie Hancock, Wayne Shorter, and Michael Brecker are the front runners of today's jazz scene, presenting their ever more active performance worldwide. There is no doubt that "TOKYO JAZZ" will be this year's fiesta of particular importance, considering the trio to be gathering together to create a spectacular performance. Moreover, the hottest and one-of-a-kind Nils Petter Molvaer from Europe in addition to Kei Kobayashi and Nettai Tropical Jazz Big Band from Japan will hype up the event. We can look forward to a true international jazz festival this summer! Herbie will give full scope to his ability, making it just the right festival for 21st century; a creation of a new, creative, and constructive jazz to be transmitted toward the world. It will surely be beyond our imagination, and we could expect a powerful and soul-stirring, thrilling event ever! I intend to fully enjoy the pleasure of being on the spot.

The true allure of Herbie Hancock is in his freedom; unchained from all stereotypes attached to any music or instruments, his sound cannot be categorized or bracketed. He had put a breath of new life into Gershwin and transformed the sounds of Prince and Shade into jazz. Although prominent as the expert of electronic instruments in contemporary music scene, Herbie also develops an improvisation with classic piano. Having studied piano since the age of seven, he explains his relationship with the instrument as if "his fingers are almost married to it." And the splendor of his performance is displayed ever so strongly at live performances. Herbie enthusing the world at his World Tour for "Future 2 Future" and The 75th Anniversary Tribute Tour for Miles Davis & John Coltrane is still fresh in our memory. Now, this man's favorite computer term is "high resolution". Let's wait and see how, with the riot of colors (artists), his art of high resolution will be produced at the "TOKYO JAZZ".

"Free and nonprescriptive sensation is just what I was looking for." -- these were the words of Herbie at the interview after his release of the latest leader album "Future 2 Future". He adds "I intend to continue maintaining this attitude at all my other projects". TOKYO JAZZ 2002 is a big project undertaken anew by Herbie this year. The venue prepared is the soccer stadium just 30 minutes away from the center of Tokyo. Wane Shorter, who has left us with a great number of wild excitements with Miles Davis Band in the 60's and V.S.O.P. in the late 70's, will be taking part. In addition, Michael Brecker, who has displayed a brilliant performance in his album just released in May, "Directions in Music / Herbie Hancock, Michael Brecker, Roy Hargrove". We will look forward to this festival of passion, an event with the key concept of "free and nonprescriptive sensation", to be transmitted from Tokyo to every corner of the world.
I'm beginning to be more and more confused of what the term "Jazz" indicates these days. It seems a bit difficult to define it since its feature differs depending upon countries. Yet, I consider jazz as a music that basically stimulates both mind and body. We must not forget that jazz was initially born as dance music for common folks. However, although Jazz being originated in the United States is a well known fact, we can nowadays enjoy various types of jazz across the globe being applied to each countries in its own way. Works which attracts me the most is styles developed by Vietnamese and Malienese who are currently active in Paris, and also unexpected composition of musical instruments and repertoire of songs well thought out by singers such as Cassandra Wilson. This freshly born "TOKYO JAZZ 2002" festival assures us by gathering world's top class musicians. For its future development, I look forward to their heart of adventure, reaching out half a step forward in jazz scene.

Popular music today is subdivided almost at a fanatic level, intermixing various music categories such as rock 'n roll, R&B, techno.. with each establishing a unique sense of groove. Following this flow, it has become increasingly difficult for a large number of people to share the same groove. We could simply enjoy the sounds with only those who share the same feeling, however, I believe in the importance of such occasion where people with various musical tastes to have the opportunity to get together under one big tree and communicate among one another by performing their sounds of splendor. But we must ask ourselves, does contemporary rock 'n roll, R&B, or hip-hop have the capacity of taking the role of the big tree? It may be a good idea to leave this up to what is considered the origin of popular music, JAZZ. Jazz moves your heart and soul, and is liberal and tolerant enough to accept horizontal, longitudinal vibration, or whatever the sound may be. It's a pity to keep a distance believing it to be music solely for adults. Numerous fights of groove will surely take place at "TOKYO JAZZ". And that's not all. It even tags a team to challenge a fight against our five senses. I expect "TOKYO JAZZ" to create a standard for a whole new type of Jazz Festival here in Tokyo.

After a decade of blank, an event to dynamically portray progressive jazz will be organized in Tokyo. Year in and year out, we find jazz evolving. A symbol of an American culture with 100 years of history since its birth, jazz has shown rapid growth and various developments at the speed of a light resulting in its internationalization. Now, in which direction will it proceed further, and how will it create its own future? Through listening to the sounds transmitted toward the world at "TOKYO JAZZ", we will be able to discover its "presence", a foundation connecting the past and the future of jazz. "TOKYO JAZZ" will provide an environment full of ambition, allowing us to experience the forefront of jazz, the music of passion that continues to evolve even today by accepting various aspects. How will all this be presented? We will surely pay close attention to the master touch of Herbie, the first art director called upon for the event. "TOKYO JAZZ" will be a challenge as to how such culture could be conveyed and transmitted to future generations. Hence, the role and mission assumed by the event is extremely important.


Copyright 2002 TOKYO JAZZ, All rights reserved.