Check out the message in motion picture from Mr. Herbie Hancock, the music producer of TOKYO JAZZ 2002. Click the picture on the left to start the movie.

* You need to have "Real Player" to see the message. Click the logo below to download "Real Player".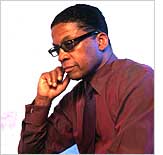 Born on April 12th, 1940, in Chicago.
Hancock studied piano from the age of seven. Subsequently, received the highest award with his original composition while in college. After graduating in 1960, his career as a professional jazz pianist begins by performing together with Coleman Hawkins. In 1962, he released his first leader album, "Taking Off" from the Bluenote Label, followed by his smash hit album, "Watermelon Man," released in 1963. While leaving numerous impressive performances as a member of the Miles Davis Quintet from 1963 to 1968, Hancock also releases "Maiden Voyage" in 1965. After moving to L.A. in 1972, he formed "Head Hunters," an innovative quartet with Paul Jackson of Oakland Funk Circuit, and in the same year, it's album "Head Hunters" was released gaining blaze of publicity.
In the late 70's, Hancock creates a new group "V.S.O.P." with Wayne Shorter, Tony Williams, Freddy Hubbard, and enjoys a tour around the world. In 1983, with the track "Rock It" from "Future Rock", a hip-hop album produced by Bill Laswell of the group "Material", receives his first Grammy Award as the Best R&B Instrumental Performance. Subsequently, he won the Academy Award as a musical director for the film, "Round Midnight." Entering into the 90's, Hancock signs a contract with Polygram, and releases a cyber-funk album "Dis is Da Drum" in 1994. In 1998, he releases "Gershwin World", a tribute to Gershwin, which garnered him the Grammy Award. In his latest album "Future 2 Future" (2001) produced by Bill Laswell, Hancock costars with Carl Craig and other hot musicians in the club music scenes.
Even today, after 40 years since his debut, Hancock still continues to create the sounds always in the forefront of the era. He is an extremely talented pianist, arranger, and a producer, highly respected from various artists around the globe.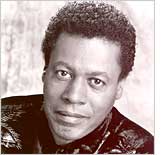 Born on August 25th, 1933 in Newark, New Jersey.
Made his debut with "Introducing Wayne Shorter" in 1959. At the same time, plays in the band Art Blakey & Jazz Messengers as both musical director and tenor saxophonist. Since '64 and on, Shorter joins Miles Davis's group with Herbie Hancock, Tony Williams, and Ron Carter, and has cultivated himself to become a leading saxophone player in the jazz scene. During these 6 years, Miles Davis Quintet left us with numerous achievements, making history in the world of Jazz. Meanwhile, Shorter has actively engaged in his solo activity and has released 11 solo albums. The group stayed together until 1970 when Shorter formed "Weather Report" with Joe Zawinul, whom he played together in Miles Combo. With this group, he has established a whole new world of avant-garde future jazz as it may be seen in albums such as "Till Spinning"(1975), and "Black Market" (1976). As a result, the group grew itself to the level where they enjoyed the highest recognition and popularity throughout the music scenes of the 70's. Shorter managed to continue his activities as a soloist, releasing 3 solo albums of his own, one of which "Native Dancer" (1974) impinged upon not only the jazz scenes at the time but also subsequent club music scenes. Needless to say, "Native Dancer" is highly considered as an ageless album.
Since the release of "Atlantis" in 1985, Shorter begins to pursue his activity as a soloist. In May 2002, after an absence of 7 years, a long waited solo album in his own name "Footprints Best Live!!" (Universal Jazz), a selection of his best performances from his world tour in 2000 was released generating much publicity. Including the Best Contemporary Jazz Performance Awards garnered to his album "High Life", he has won 6 Grammy Awards in total including the ones by Weather Report.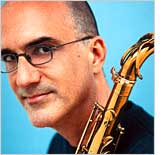 Born in 1949.
Makes his debut as the "Brecker Brothers" in 1975, with his brother Randy Brecker as the trumpeter. Released 8 albums in total including the disco/funk influence "Back to Back" (1976) and a rather rock'n roll approach album "Heavy Metal Be-Bop" (1978). Every album released sensationalized the fans and the media. During the 80's, Brecker begins to receive high recognition as the tenor saxophonist. In 1987, he released his first leader album "Michael Brecker".
Brecker's authentic style jazz play attracts both veterans and newcomer listeners of jazz music. As a result, its follow-up album "Don't Try This At Home" garnered Brecker his first Grammy as the Best Jazz Instrumental Performance (Solo Section). Since then, he has enjoyed the high recognition of receiving numerous Grammy Awards.
On his most recent release, "Nearness of You : The Ballad Book", Brecker was joined by Pat Metheny as the producer, Herbie Hancock, Charlie Haden, Jack DeJohnette, and furthermore James Taylor in two of the tracks. He won his 8th Grammy with the album.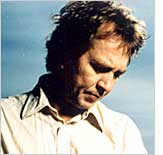 Born in 1960 in Norway.
Nils Petter was introduced to jazz from an early age by his musician father and from his influence began playing in school bands at the age of 13. Nils built up his elements as a classical trumpet player through his experiences of playing at numerous session with various artists such as Elvin Jones and Gary Peacock at around year 1980. In 1997, he completed his debut album as a leader with "Khmer", which focuses on blending together his previously cultivated techniques with his natural sense in popular music.
Having to adopt drum'n bass, ambient dub, and various club music essence which was previous unknown in jazz music scenes, results Nils to receive an extraordinary public and media response. This lead to his enormous success not only in Norway, his home, but in United States and Germany as well. He made blockbuster sales distributing 100,000 CDs, which is an extremely rare case in the world of jazz, and moreover, was highly recognized in all genres of music. His second album, a follow up to "Khmer", also shows a whole new possibility for jazz, being widely accepted by audience. In 2001, he released a remix album, "Recoloured," where Cinematic Orchestra (who will perform at the Fuji Rock Festival this year) and other top dogs in the club scenes today participates as remixers.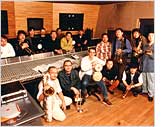 Carlos Kanno, leader of the group Orquesta De La Luz, took the lead again in forming a new Latin Jazz Band consisting of 18 musicians in 1994. Through performing at numerous concerts and jazz festivals, the group released their indies album "Nettai Tropical Jazz Big Band -Live In Yokohama-" in 1997. The following year, the album was released throughout the United States from Tropical Jazz Label (RMM Record), and made their performance at the JVC Jazz Festival in New York City. They spent a busy year making a dazzling debut with their first major album, "Nettai Tropical Jazz Big Band II -September-", followed by "Nettai Tropical Jazz Big Band III" in 99, and "Nettai Tropical Jazz Big Band IV - La Rumba-" in year 2000. Their 5th and latest album is "Nettai Tropical Jazz Big Band V - La Noche Tropical-" released in 2001.
You can listen to brimful of excitement and originality in their sound that has a reminiscent of subtropical charm in all genres adopted (from jazz to funk, and not to forget their original songs). With their uniqueness, they provide a delight in the Japanese music scene. In October 2001, they introduced a new project "Nettai Tropical Club," featuring Chaka (former member of PS·S) as their leading vocal. In 2001, their album, "Nettai Tropical Club -Spirit of Rhythm-" was released.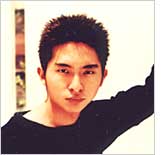 Born in 1979.
Born and raised in a musical household; both his parents are jazz musicians, plus his grandfather. He began taking classical ballet lessons at the age of five, which lead him to become the youngest dancer ever to pass the Royal Academy of Dancing Certificate with the highest score. At just the age of 13, he starred in the musical, "Kids In The Kitchen".
By the time he was 15, he begins to perform at jazz clubs in Tokyo as vocalist and drummer. At 16, he took part in the charity for the victims of Kobe Earthquake and performs on the same stage with Herbie Hancock. At 18, Kei released his first leading album "18/ P.S. I Love You (Next Records)" and his debut from a major label came in December 1999, with the album "So Nice".
Selected as the Best Male Jazz Vocalist by Swing Journal for 4 months in a row, and was also chosen as its Best Annual Male Jazz Vocalist. In the following year, he became the youngest Japanese artist to have ever performed at the Blue Note and also the youngest to receive the Best Japanese Jazz Vocalist Awards in year 2000. In January 2001, Kei was awarded the Swing Journal New Star at the Jazz Disc Awards 2000. September this year, he will be performing at Blue Note in New York. Also, with his latest release "Misty K" from Toshiba-EMI records, he won the Swing Journal Jazz Disc Awards together with the Jazz Album of the Year at Japan Golden Disc Awards. He is currently coming under the spotlight as one in a thousand to lead the world of Japanese Jazz in the future.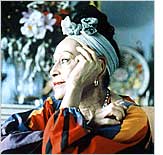 Born in 1930.
Highly influenced by her mother and older sister, Omara starts singing at an early age which lead her to experience her first stage at the age of 15. Makes her debut as the member of female chorus group "Las Daida". After the break up of "Las Daida", she continues her outstanding performance as a soloist. Her singing style was a Cubanised version of bossa nova with American jazz influences known as "feeling", which later becomes unforgettable to many people of Cuba.
She starred with Nat King Cole and Edit Piaf, internationally renowned vocalists, toured around the globe mainly in Communist blocks, and even made her performance in France and Japan. Although, she was a well known vocalist for a long time, she came into the public limelight due to the release of the album, "Buena Vista Social Club (Warner Music)" produced by Ry Cooder together with the film documenting its recording directed by Wim Venders, a film director famous for his works such as "Paris, Texas" and "Der Himmel Uber Berlin". The album ended up receiving the Best Tropical Latin Performance at the Grammy Awards. Moreover, her passionate and emotional voice is highly admired furthermore around the world. Omara's concert tickets for Japan tour is always priced premium due to her overwhelming popularity, and also pumps out CDs one after another from her former recordings. Omara's sweet voice sang throughout 50 years of her singing career continues to attract the audience even today.

Studied violin since the age of four. Made her debut professionally in 1996.
Became widely noticed with her participation to the album "Things Unseen (Universal Polydor)" by pianist Kenny Barron in 1997, which lead her to release her first album as the leader "Thinking of You." The completeness of both works were highly recognized, rewarding her with the "New Star Awards," the grand prize of The 33rd Jazz Disk Awards presented by Swing Journal Magazine. Subsequently, she becomes highly regarded for her originality in performance style and was chosen as the winner of Readers' Choice Awards in Instrumental Music Section hosted by Swing Journal Magazine three years in a row. You can enjoy her latest sound in her first self-produced album, "All For You (Video Arts)"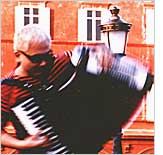 Came in contact to music and began taking acoustic training at the age of three. Heads off to Italy at age eighteen for further pursuit in his music. Graduates first on the list from Luciano Fancelli Conservatorio of Venice majoring in accordion. His debut album "Under the Moon in Sicily" (Toshiba EMI) released in 1991 was awarded the Special Prize of Japan Record Awards in 1992. Hereafter, in 1995 and 1996, he participated in Byork's world tour, took the role as the sound producer for Kahimi Karie and UA, and furthermore dedicated his versatile talents in creating theme music for the popular TV program "Oshare-Kankei", CM tunes, and stage music. In 1997, he was granted the Honorary Citizens Awards both in Venice and Milano. His latest award received is The Outstanding Musical Performance Awards of The 24th Japan Academy Awards with the soundtrack of the movie "Face". His latest work is the single "You're Not Alone" (Toshiba EMI), a collaboration with Kazufumi Miyazawa (The BOOM).

A pianist from Panama. This pianist of contemporary jazz with a touch of Afro and Latin taste receives high recognition since the release of his debut album "Danilo Perez (import)" in 1993. His enthusiasm allowed him to distribute six albums in total to date. His latest work "Motherland (Universal Jazz)" introduced in year 2000 was nominated in the Grammy Awards. Needless to say, he is a rising musician whom we have high expectations to his future activities. He visited Japan as a member of Wayne Shorter Quartet performing in "Newport Jazz Festival" in Madarao last year, fascinating audience with his eminent performance.

Born in Brooklyn, New York, in 1959. A bassist.
His outstanding performance and music sense was first recognized in the early 80s when collaborating with Tom Scott and Stan Getz in L.A., and lead him to become a member of Chick Corea Group. Subsequently, participates and collaborates with numerous artists such as Wayne Shorter, Manhattan Jazz Quintet, and others. He is highly accepted by a wide range of audience giving full play to his technique in both acoustic and electric bass.
In 1987, released a first album as a leader "John Patitucci" assisted by Chick Corea and Michael Brecker. Successively, distributed various albums beginning with an orchestral session "Heart On Bass"(1991), followed by a competitive performance with African music "Another World" (1993), leading to a rather straight forward jazz track "One More Angel" (1996) and "Now" (1998). His tenth and also his latest album "COMMUNION" (Victor Entertainment) was released in 2001.

Born in Louisiana in 1970.
Devotes to jazz while playing the drums at church, and here his quest for drumming begins. While a student at University of New Orleans of Loyola, he encounters various jazz musicians which lead him to becoming a professional. Thereafter, he moves to New York. Subsequently, serves as a member of Joshua Redman Quartet, appearing in albums "Mood Swing" and "Freedom in the Groove", where his skills were highly recognized. From there on, he becomes active beyond genre, performing sessions with talented young artist such as Brad Mehldau and Mark Turner, collaborating with artists in popular music Peter Gabriel and Joni Mitchell, gaining considerable support from musicians of various fields. In 1998, completed his debut album as the leader "Brian Blade Fellowship". The following album, and also his latest work, is "Perceptual" (Toshiba EMI 2001), an album in the news having Joni Mitchell as guest musician. He visited Japan in the same year as a member of Wayne Shorter Quartet taking part in Newport Jazz Festival in Madarao.

In 1990, organized the group U.F.O. with Rahael Sebbag and Toshio Matsuura (currently withdrawn). Debuts with the single "I Love My Baby (My Baby Loves Jazz)" in 1991. The single released in 1992, "Loud Minority", awards the group with Planet Jazz Awards selected by the English magazine "Straight No Chaser". His first album released in 1993, "United Future Organization," made a blockbuster sales with a domestic release of 100,000 copies. This lead him to contract with VERVE label, allowing his performance to take onto a global scale. He is highly recognized, being in great demand from jazz festivals and club events throughout the world. Here in Japan, he has a history of organizing numerous club events centering around "YELLOW" of Nishiazabu and "BLUE" of Aoyama since his early stage in life as a musician. This group is a true leading figure in percolating acid jazz in the club jazz music scene. Their latest work is "V (Five)" released in 2002.


Copyright 2002 TOKYO JAZZ, All rights reserved.